I am pleased to introduce to you the alpha version of my Field Trainer. This is a City of Heroes Build Planner that currently contains the following functionality:
Ability to "level up" a character from level 1 to level 50
Choose from Primary, Secondary, Pool, and Epic powers
Choose from all known Archetypes
Powers may be chosen, as well as enhancement slot placing
Global Powers data and Character data may be imported and exported from the program
What this alpha program does NOT do however, is the following, which are all planned to be added in at a later time:
Nothing to do with Inherent powers at this time
Cannot alter existing choices – all choices are "locked in".
Cannot choose enhancements to place into the slots
Aside from the character's current level, and the level that powers and enhancements were chosen, there are NO numbers in this application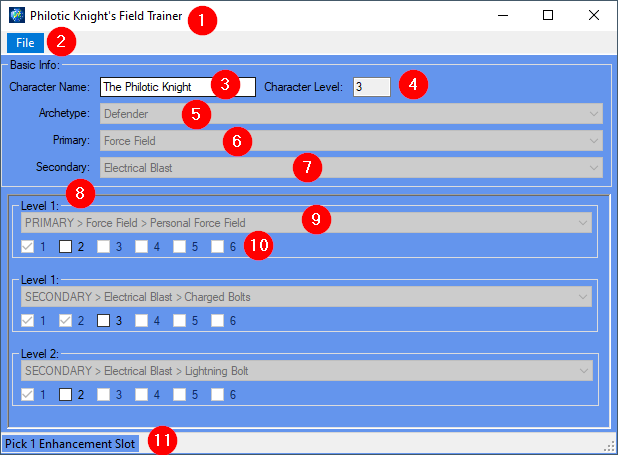 Title Bar
File Menu
Character Name field
Character's current level
Archetype ComboBox
Primary ComboBox
Secondary ComboBox
Power Picker object
Power Selection ComboBox of the Power Picker
Enhancement Slot CheckBoxes of the Power Picker
Status Bar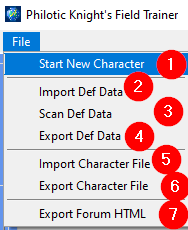 Use this option to wipe current data onscreen and start a new character
Imports data into the system from an external definition XML file
Scans a Data directory which contains Def files, and creates from that directory an XML schema file.
Exports the current schema data to an XML file
Imports a character XML file into the planner – WARNING, this will take over your computer for a minute, as it plugs in the data from the XML file like a macro would.
Exports the current character data to an XML file
Exports the current character data into an HTML friendly format as a temp file that opens in your default web browser. From here, you can copy and paste the data, or save it as an HTML file.